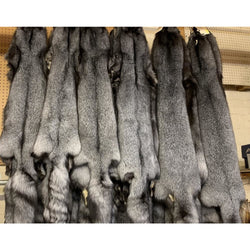 Bill Worb Furs Inc.
Indigo Fox Fur
Indigo fox fur pelts
These beautiful grey coloured indigo fox fur pelts are soft, fluffy and so thick.  
Sizes: XL, XXL, Jumbo
These pelts are ready to be shipped the same day as ordered.
Fur is a sustainable, respectful and even luxurious material for clothing, accessories and art in indigenous culture. We believe it's important to preserve fur's place in Indigenous cultures and traditional economies.