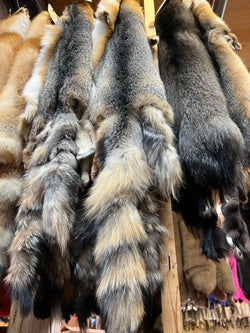 Bill Worb Furs Inc.
NEW PRODUCT - Wild Canadian Grey Fox
Wild Canadian Grey Fox
Top quality wild Canadian grey fox fur have gorgeous grey colouring and fluffy tails.
XL Prime Winter Quality 
XXL Prime Winter Quality 
Fur is a sustainable, respectful and even luxurious material for clothing, accessories and art in indigenous culture. We believe it's important to preserve fur's place in Indigenous cultures and traditional economies.