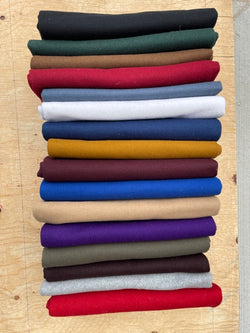 Bill Worb Furs Inc.
Melton Fabric
Melton Fabric 80% Wool, 20% polyester fabric (felt)
Colours Top to bottom:
1.black
2.hunter green
3.light brown
4. maroon
5.steel blue
6. white
7.dark blue
8.moose
9.burgundy
11.light beige
12.purple
13.olive green
14.dark brown
16.red
$44.95/yard
58 - 60" Wide
Price is per yard
Melton fabric is known for its dense, tightly woven texture that is
resistant to wind and water
. It has a soft, smooth finish and a weighty feel, making it perfect for creating structured garments such as pea coats and trench coats. Its natural insulating properties also make it ideal for cold weather clothing.
I think it was great
No trouble with the parcel at all
Great support
I wasn't happy with the red Melton as in the photo of the fabrics piled up I felt that the bottom red fabric looked like a true clear red but what I received has a cherry or bergundy red look. Anyways they emailed and called me as I thought this might be actually their bergundy. However they verified that this is their red. It isn't the colour I need but at least they supplied support and information readily and in a friendly quick response. The fabric itself is nice. Just not the shade of red that I want!
Not the best
The material is great, however, I ordered 2 meters of each color. I am making a traditional robe so I need two whole meters. I got two 1 meter pieces. (4 pieces total) I can't make it with a seam down the middle. 😔😔
The fabric is so soft and so easy to work with.