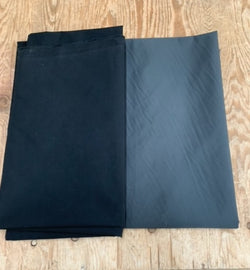 Bill Worb Furs Inc.
Arctica Fabric
ARCTICA – The Fabric Created for the Canadian North
The Conditions in Northern Canada are severe, frigid and extreme, and require a fabric to withstand these harsh conditions.  Arctica protects against cold, moisture, and wind. This fabric is designed to thrive in the cold Arctic conditions and has been thoroughly tested for extreme sub-zero climates.
Made with protective strong polyester (70%) and warm strong cotton (30%) fabrics which are interwoven to give Arctica it's special technical qualities, making it one of the finest outerwear fabric in the world.
Available in Black and Navy
Price is per square yard