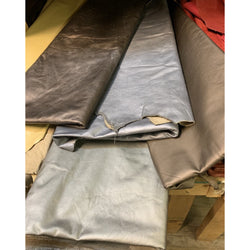 Bill Worb Furs Inc.
Metallic Garment Leather
Metallic
 Garment Cowhide leather.
Beautiful and excellent quality.
Colours: Gold, Silver, Bronze & Platinum
Quantity and price is per square foot. 
Minimum order is 5 square feet.
Leather is used frequently for clothing items like leather jackets, leather pants, leather dresses, leather blouses, mitts, footwear and more.