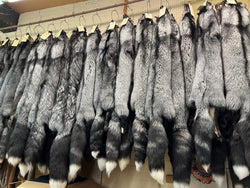 Bill Worb Furs Inc.
Silver Fox Fur
Premium top quality silver fox fur.
Top-of-the-line Winter Quality - among the finest available on the market


Full, Very Plush

Black base fur with highlights of white that gives it a beautiful silver colour

Just arrived! - Excellent sizes

These beautiful pelts are ready to be shipped same day as ordered.

Colours: Natural
Sizes: L, XL, XXL, Jumbo, Super Jumbo
Fur is a sustainable, respectful and even luxurious material for clothing, accessories and art in indigenous culture. We believe it's important to preserve fur's place in Indigenous cultures and traditional economies.
A-mazing
I have not purchased online from Bill Worb before but now that I've done it I don't know why not?! It was so easy picking and checking out and a couple days later the most beautiful top quality fur arrived at my door. Would 100% recommend this place and the simple shopping experience to anyone looking for furs!