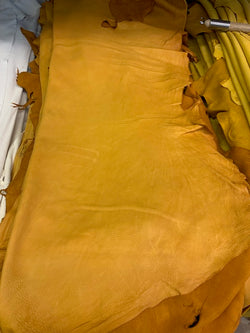 Bill Worb Furs Inc.
Natural Deer Hide Polished Leather
Excellent quality natural deer hide polished leather hides
Top rated!
Polished grain on one side, suede on back. Excellent weight skin for a variety of craft projects. 2.0 - 2.5 oz. 
Perfect for making gloves
Colour: Natural Tan
Quality #1 and Quality #2
Quantity and price is per square foot.
Minimum order is 5 square feet.
Leather is used frequently for clothing items like leather jackets, leather pants, leather dresses, leather blouses, mitts, footwear and more.
received everything just fine. It took a little longer than I had expected to receive it, probably because of customs.