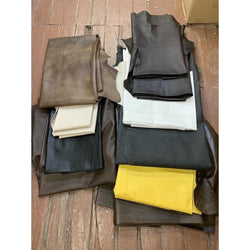 Bill Worb Furs Inc.
Polished Nappa Pigskin Leather
Grained polished pigskin leather.
Ideal for garments, mitts and craft work.
Size 15 - 25 Square feet.
Colours:  grey, olive, purple, brown, electric blue,light brown, red, antique brown, tan.
$4.29/square foot
Minimum order is 5 square feet.
Leather is used frequently for clothing items like leather jackets, leather pants, leather dresses, leather blouses, mitts, footwear and more.