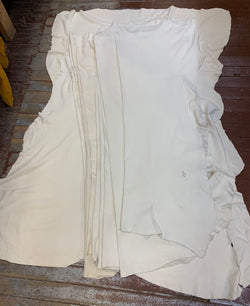 Bill Worb Furs Inc.
White Deer Hide Split Leather
Excellent quality white deer hide split leather 
Top rated!
Split suede on both sides. - 2 to 2 1/2 oz. 
Color:  white
Quantity and price is per square foot.
Minimum order is 5 square feet.
Leather is used frequently for clothing items like leather jackets, leather pants, leather dresses, leather blouses, mitts, footwear and more.
White deerskin is the material used to make  indigenous wedding dresses because it is believed to be magical.