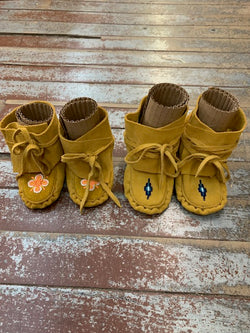 Bill Worb Furs Inc.
Chidden's Wrap Around Moccasin
Children's Wrap Around Moccasin
Super soft, split leather, beaded vamp moccasins with wrap around straps.
Child sizes 1-5
The moccasin, the Aboriginal footwear is both practical and stylish. The moccasin beading often provide spiritual protection in the form of certain symbols, which remind the wearer of sacred places, beings or teachings.