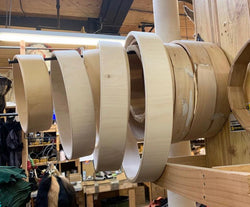 Bill Worb Furs Inc.
White Cedar Wood Hand Drum Frames
White Cedar Wood Hand Drum Frames
Each is constructed by steam-bending white cedar into a perfect circle. Pre-sanded & ready to use, these make beautiful drums with excellent tones. Makes either a single or double sided drum. Please remember to order enough raw hide for a diameter at least two inches larger than the frame for overlap.
Great for pow wows and other traditional gatherings
Come in sizes: 8" 10" 12" 14" 16" 18" 20" 24" 26" 28"
PLEASE NOTE: FRAMES 24", 26", 28" TAKE  2-3 WEEKS FOR DELIVERY
It is a symbol of connection and relationship to all. Drums are often given as gifts in thanks for good work or to acknowledge an important relationship or time in someone's life.
white cedar drum frames,
nice frames, only need a light sanding if you so choose