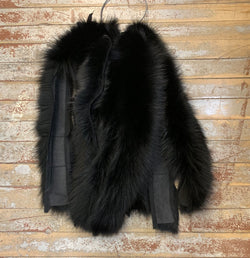 Bill Worb Furs Inc.
Dyed Blue Fox Hood Ruff - Quality #2-black
Black Dyed Blue Fox Parka Hood Ruff
Commercial quality dyed blue fox fur hood ruffs. Great price!
Ready to be sewn on.
Colour: Black
22" length x 2" wide
Hoods with fur decrease the amount of heat lost, thus keeping your face and you warmer. The larger the diameter, variety of fur, and if the fur is natural, the warmer your face will be
Dyed Blue Fox Ruff
Love how the fur is prepped n ready for installation. Makes my projects so much easier to finish.