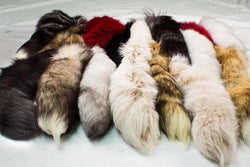 Bill Worb Furs Inc.
Fur Tails
Fur tails
A variety of excellent quality fur tails.
Furs: Coyote, blue fox, silver fox, red fox, white fox, cross fox, raccoon, dyed blue fox, black mink, brown mink
Love all of them! Great shape, no fur coming out of these tails. I am a happy & will be repeat customer for my crafting needs. Fast delivery & well packaged. Thank you & have a wonderful & safe weekend!