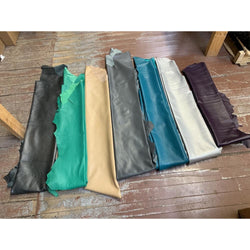 Bill Worb Furs Inc.
Italian Lambskin Leather *New Arrivals*
Gorgeous Polished Italian lambskin leather.
* New Colors Just In *
Excellent quality. Top rated. 
Super soft and velvety smooth polished leather.
Size: 5-12 square feet
$6.95 per sq. ft.
Colors from left to right: off white, hunter green, beige, teal, plum, white, navy, red, purple, brown, gold, burgundy, cognac, blue, grey, pink, black
Quantity and price is per square foot. 
Minimum order is 5 square feet.
Leather is used frequently for clothing items like leather jackets, leather pants, leather dresses, leather blouses, mitts, footwear and more.