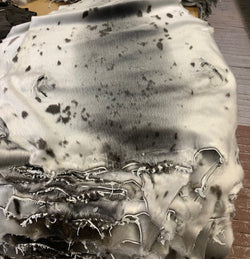 Bill Worb Furs Inc.
Second Quality Harp Seal Fur
Second (Commercial) Quality Harp Seal Skins

Beautiful, soft, commercial quality natural seal. 
Price range: $150-$199
Will be Grade #3-#5
*Note: these are commercial quality which means they have scar marks, uneven edges and holes. They are perfect for mitts and smaller projects
What is seal used for? Seal pelts are transformed into a wide range of final sealskinproducts including coats, vests, hats, ties, boots, mittens, trims, and seal leather items. Sealskin garments are both warm and waterproof, making them practical and prized in Canada's harsh northern regions
Note: The United States of America Marine Mammal Act forbids seal skin products to be exported to the USA.
Seal Skin
We were happy with the product and how quickly we received it.
Nakummek!
Second quality
Not bad really. But one of the seal skin has a hole right in the middle and a few bold spots
Seal
Happy with my purchase beautiful work
Seal
Few scars here and there. Great for small projects