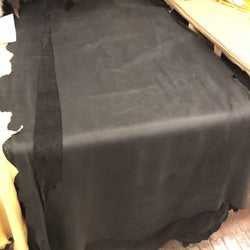 Bill Worb Furs Inc.
Moose Hide Touched Cowhide Leather Quality #1- Black
Excellent quality black moose hide touched cowhide leather
Excellent quality!
Grained on one side, 3.0 - 3.5 oz
Suede on back, full skins, 18 - 30 square feet.
Quantity and price is per square foot.
Minimum order is 5 square feet.
Leather is used frequently for clothing items like leather jackets, leather pants, leather dresses, leather blouses, mitts, footwear and more.