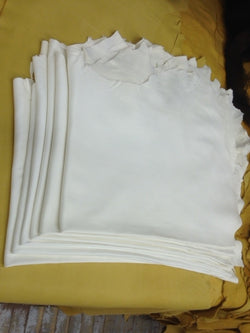 Bill Worb Furs Inc.
Deer Hide Polished Leather- White
High quality white deer hide polished leather 
Grained on one side, suede on back;
excellent weight skin for a variety of craft projects.
Weight:  2 to 2 1/2 oz.
Quantity and price is per square foot.
Minimum order is 5 square feet.
Leather is used frequently for clothing items like leather jackets, leather pants, leather dresses, leather blouses, mitts, footwear and more.
White deerskin is the material used to make  indigenous wedding dresses because it is believed to be magical.
My absolute favourite
I've been purchasing the white deer hide a lot over the past few years and it's always been incredibly good quality, easy to sew through, durable and so beautiful. Will continue to buy this leather for years to come!!