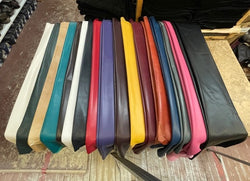 Bill Worb Furs Inc.
Italian Lambskin Leather
Excellent Quality Polished Italian Lambskin Leather
Excellent quality. Top rated. 
Super soft and velvety smooth polished leather.
Size: 5-12 square feet
$6.99 per sq. ft.
Colors from left to right: off white, hunter green, beige, teal, plum, white, navy, red, purple, brown, gold, burgundy, cognac, blue, grey, pink, black
Quantity and price is per square foot. 
Minimum order is 5 square feet.
Leather is used frequently for clothing items like leather jackets, leather pants, leather dresses, leather blouses, mitts, footwear and more.
ITALIAN LAMBSKIN LEATHER
Ordered 6 Sqft of black leather. Its high quality and it feels soft. I don't have the proper equipment, but I measured it to be about 0.87mm in thickness on the edge. Does have a few imperfections here and there, but not many. Still very happy with it. I thought it would be shinier, but its has more of a matte finish (looks shiny depending on the angle of the lighting).