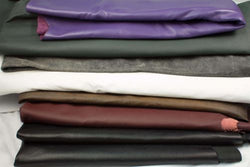 Bill Worb Furs Inc.
Polished Upholstery Cowhide Leather
Great quality polished upholstery cowhide leather.
Available in 1/2 hides and full hides.
#1 Quality. average sizes 25-50 square feet.
Colours:  hunter green, burgundy, light brown, black, purple, white, distressed grey
$5.95/square foot
Minimum order is 5 square feet.
Leather is used frequently for clothing items like leather jackets, leather pants, leather dresses, leather blouses, mitts, footwear and more.